HEY YOU, SIGN UP AND CONNECT TO WOODMART!
Be the first to learn about our latest trends and get exclusive offers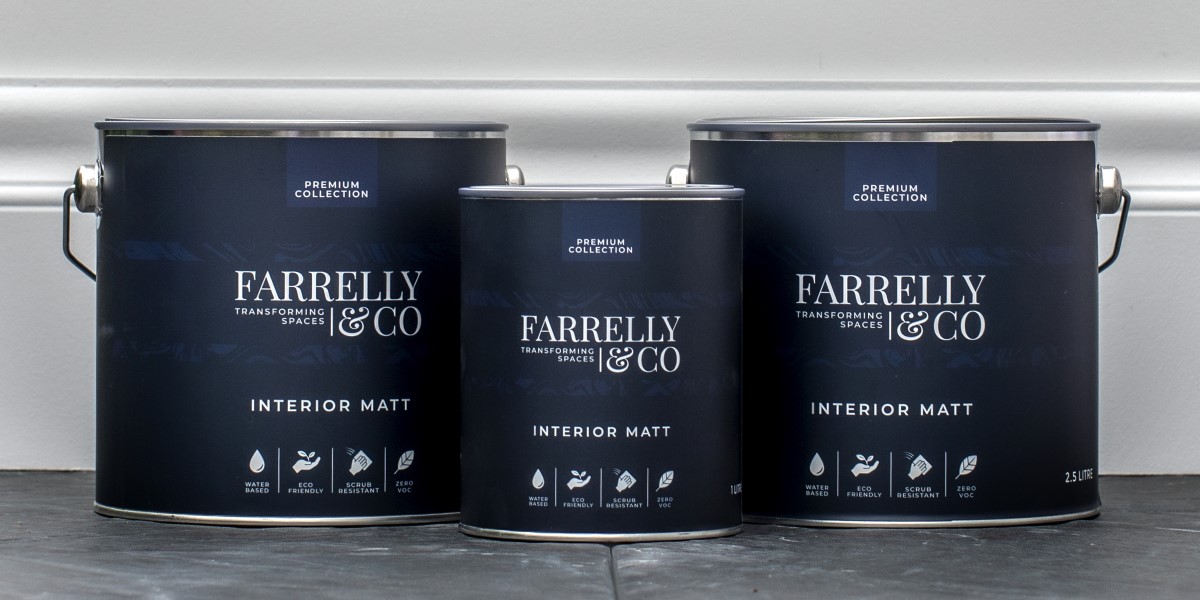 Do you offer paint samples?
Instead of the traditional paint pot samples that are messy and wasteful, at Farrelly & Co we offer zero waste peel and stick samples. These are 100% accurate as they are handpainted by our expert team. They are also designed to be moved around your home and viewed in different lights throughout the day, ensuring you are 100% sure of your new paint colour for your project.
How did you come up with the colour names for Farrelly & Co Paints?
All 58 paint colours within the Farrelly & Co Premium Paint collection are named after people, places and memories that have a special meaning to Rachel and Alan. 
For example 'Tilly Girls' is named after Rachel's Great Granny Elsie who was a dancer in the popular dance troupe 'Tiller Girls' in the 1920s. Want to hear the meaning behind any of the other names send us an instagram message to @farrellyandco, we would love to tell you!
How come you don't offer hundreds of paint colours?
Less really is more. We've spent the last 2 years curating the ideal 58 colours for all of your interior projects, which means we've done all of the legwork so you don't have to. Through our years of experience transforming and restoring homes, we know what colours work!  
Our Zero Waste Peel and Stick samples come in our most popular finish Premium Interior Matt, perfect for testing colour on your walls.
What's the difference between all the paint finishes?
We offer all our colours in four exceptional finishes which are all easy to apply, Zero VOC* (Pure Matt & Silk Matt) and Low VOC (Interior Eggshell and Interior Gloss).
Our paints are durable and made to order, mixed fresh, especially for you.
Pure Matt: has the classic flat finish for interior walls and ceilings. It has great coverage and can be evenly applied in just two coats. Sold in 1ltrs and 2.5ltr tins.
Silk Matt: has a soft scrubbable matt finish, perfect for your walls and ceilings and areas with higher passing traffic. It has great coverage and can be applied evenly in just two coats. Sold in 1ltr and 2.5ltr tins.
Interior Eggshell: has a durable low sheen finish. Perfect for woodwork and metalwork this finish is easy to apply. It has great coverage and can be applied evenly in just two coats. Sold in 1ltr and 2.5ltr tins.
Interior Gloss: is our highest sheen finish. This product is perfect for interior woodwork with a durable finish. It has great coverage and can be applied evenly in just two coats. Sold in 1ltr and 2.5ltr tins
How long is the shelf life of Farrelly & Co paint?
Like most paints, Farrelly & Co paints have a shelf life of approximately 12 months if stored correctly. The great benefit of our made-to-order paint is that you will be receiving the freshest possible paint direct to our door. 
Premium Interior Eggshell is ideal for use in kitchens and bathrooms. Its slight sheen is ideal for reflecting more light into spaces, and it performs well in humid environments. We also love to use it on woodwork.
Premium Interior Gloss is best suited to woodwork and trim. This popular trim paint looks great and can withstand years of knocks and scuffs. It was designed for the harsh life in doorways and on the street.
Our Zero Waste Peel and Stick samples come in our most popular finish Premium Interior Matte, perfect for testing colour on your walls.
Do you sell ceiling paint?
We don't sell "ceiling paint," but our Premium Interior Matt works brilliantly on all walls and ceilings. Ban is our purest white and a great choice for ceilings, but why not try out some colour with a peel-and-stick swatch?
Normally, no. Farrelly & Co paint is self-priming and has excellent coverage, so it can easily cover standard walls and trim in two coats. However, we do sell a water-based primer for UPVC, bare metal, or unstable and glossy surfaces, where the paint simply requires a stable surface to adhere properly. If you're painting fresh plaster or unpainted trim, you'll need to start with a mist coat of slightly watered-down emulsion before applying your Farrelly & Co colour.
What do you mean by scrub resistant?
In the paint industry, the property of scrub resistance is measured as the ability to resist the wearing or degradation of a dried paint film.
Volatile Organic Compounds (VOCs) are gases emitted by certain solids or liquids that have a negative impact on the quality of our indoor air. They are derived from the chemicals in paint, which are an essential component of the recipe for preserving and stabilizing the paint.
Farrelly & Co paints, thankfully, are all Zero or low-VOC, which means they contain as little as is technically possible for a paint product. This means that the air quality in your room is unaffected, and you can return to your space immediately after application.
My order has arrived and is damaged, what do I do?
We are so sorry that your order has been damaged. Please let us know within 14 days in order for replacement goods to be re-sent. Proof of damage will be required before we can replace your items so contact us as soon as you can with details and photos to info@farrellyandco.com. A member of our customer service team will be in touch with you to help resolve your issue.
How can I change/cancel my order?
Because we work quickly to get your order to you, we only account for changes to your order up to 15 minutes after it is placed, including cancellations and delivery address changes. Sorry – we understand this is a short time frame but any later and we may have dispatched your order already! Once we have received an order, if the paint has been mixed, we can no longer cancel it.
Yes, our site is configured so that your payment is 100% secure. Your details are not saved or stored after purchase.
Do you have technical sheets available?
Yes, technical data sheets are available. For further information please email info@farrellyandco.com